Students, teachers and parents at U.S. military bases overseas greeted the first day of school Monday with cautious optimism despite the ongoing coronavirus pandemic.
As of Monday, about 45,000 students were enrolled in 109 Department of Defense Educational Activities Schools in Europe and the Pacific, according to DODEA data.
Fewer than 500 are enrolled in virtual school abroad, an option available to families anxious to send their children to school due to the pandemic.
But demand for virtual school was not as high as expected, DODEA officials said, perhaps indicating that families feel more secure about in-person learning.
"We're excited to be back to brick and mortar," Chief Warrant Officer 4 Matthew Keechi said as he dropped off his daughter Natalie, a fourth-grader, at Ramstein Intermediate School. Natalie was homeschooled last year.
Schools have been dealing with the coronavirus for over a year, so he hopes the mitigation measures in place will be enough to keep schools open.
All DODEA schools require everyone to wear a mask indoors, regardless of their vaccination status.
Anita Hammer, whose daughter Cora is also in fourth grade at Ramstein, said she was grateful for the mandatory masks. The family moved to Germany from Hurlbert Field in Florida a month ago.
"Honestly, considering where we were and how it is going in Florida, we are very grateful (to be) here," she said, referring to the high number of cases of coronavirus in Florida. "Our children don't mind wearing masks. It's the least we can do.
Aiyana Sanders and her family moved to Italy two weeks ago. Last year, Aiyana attended distance school in Norfolk, Virginia. Monday was Aiyana's first day at Naples High School, where she is a freshman.
"I'm nervous," said the 14-year-old, who was happy to be back in class. "I hope to make friends and find someone I can walk with every day."
Aleigh Lamis, 17, said she was hoping for a normal senior year. Last year, the elderly were unable to participate in many traditional activities, such as prom, she said.
"I hope we can have a good senior year filled with lots of normal activities, a fun and eventful year where we can be in person," Lamis said.
Near Naples Elementary School, Keturah Ernest and her daughter, Kaleigh B, took photos as they waited for the start of the school year.
"I hope she grows up, becomes less shy and blossoms," said Ernest, who homeschooled his daughter last year.
Many at Ministry of Defense schools in Japan, where the number of coronavirus cases hit record highs over the summer, were happy to see students and teachers back in classrooms sooner. only on computer screens.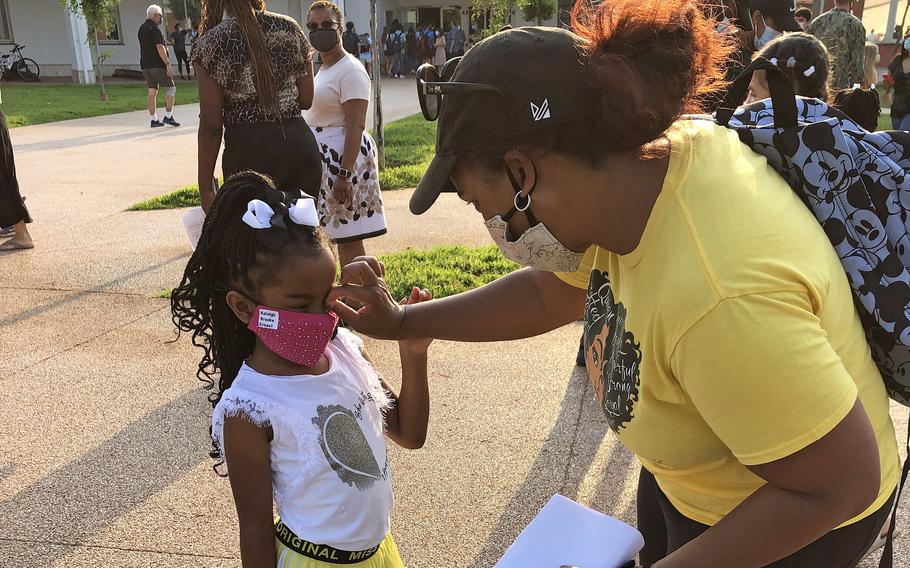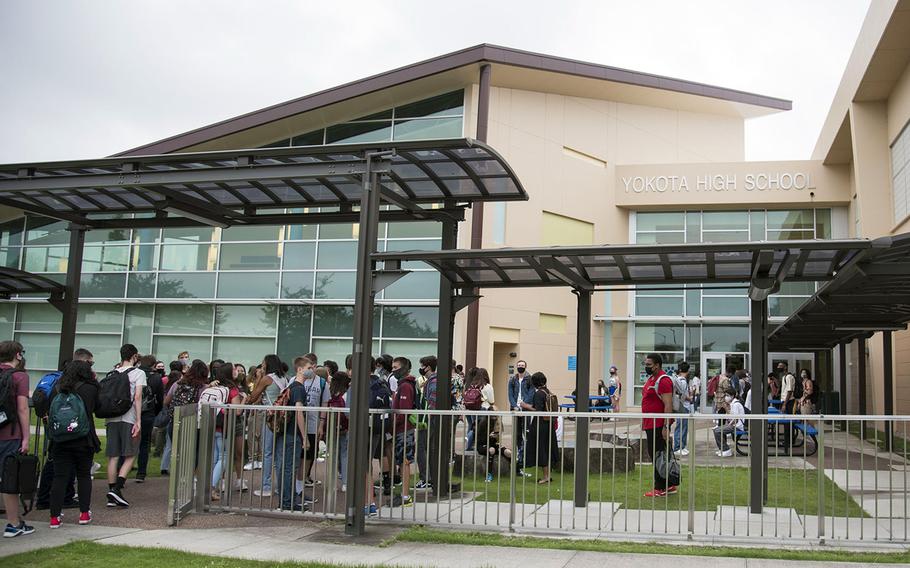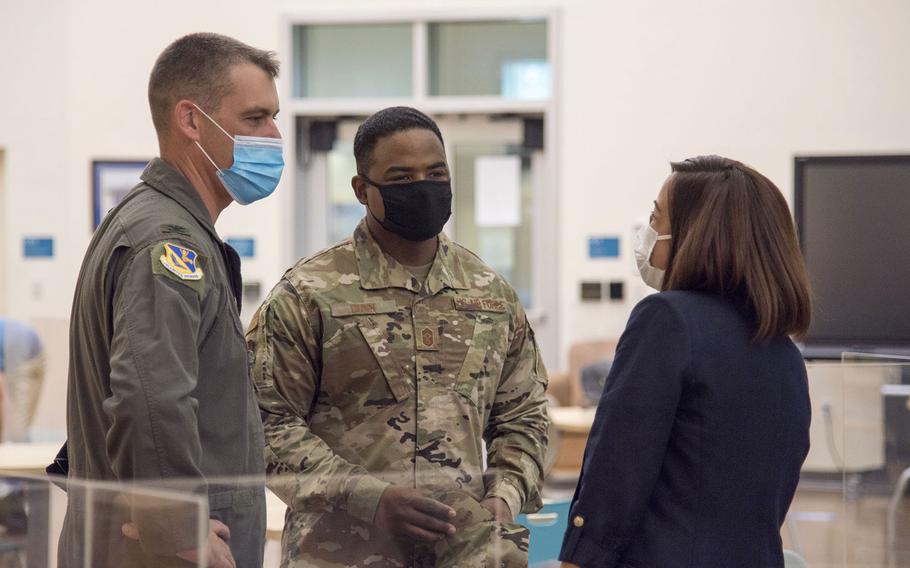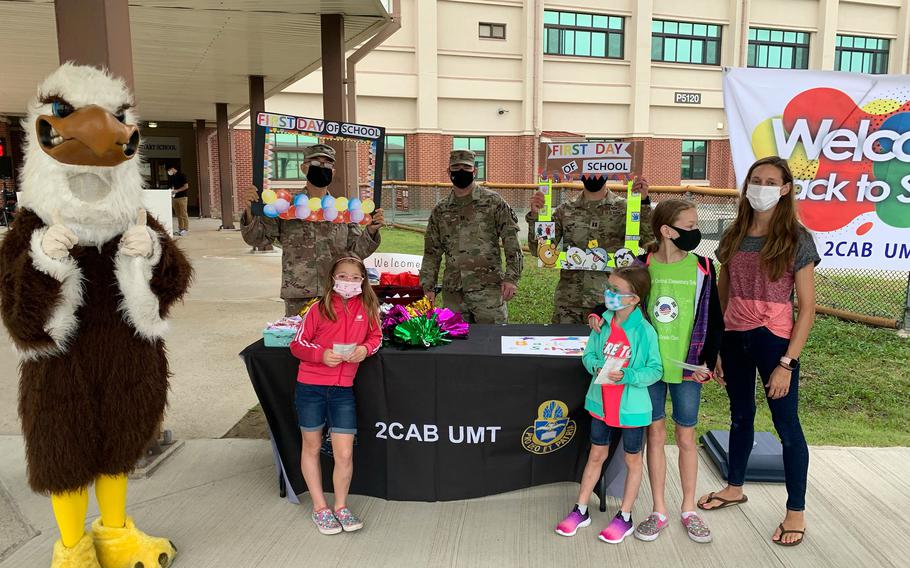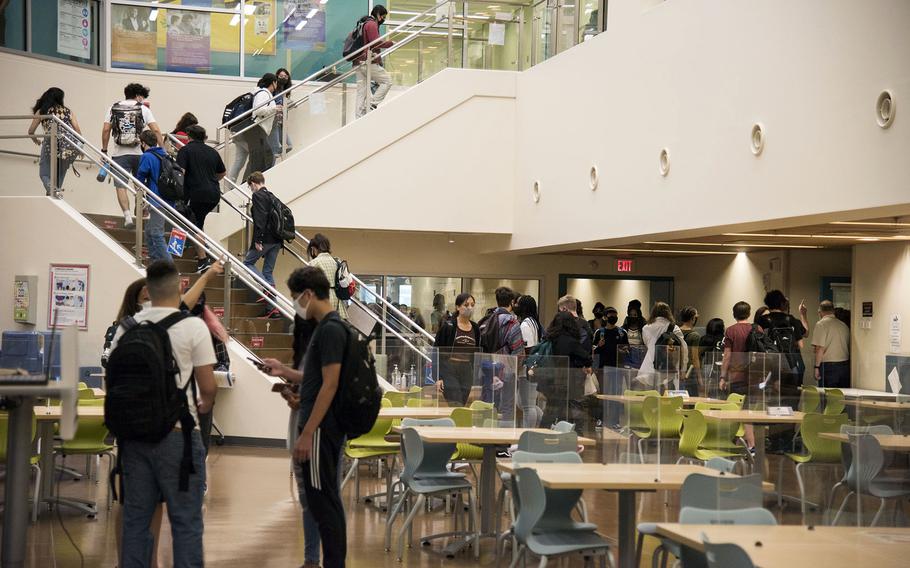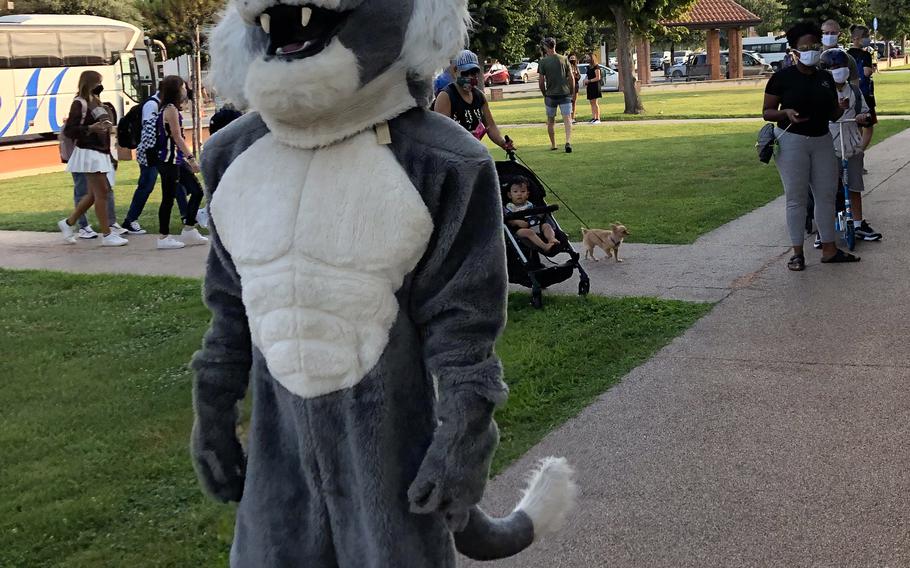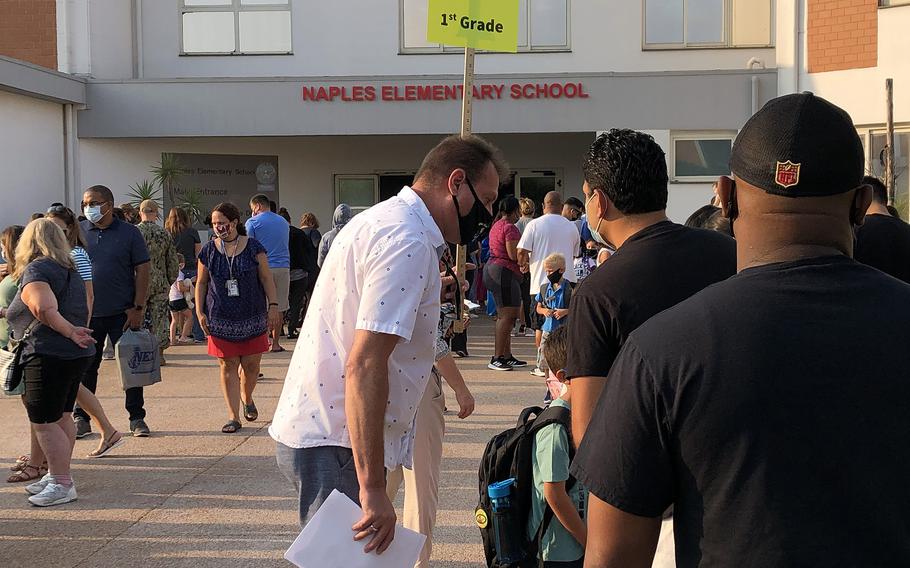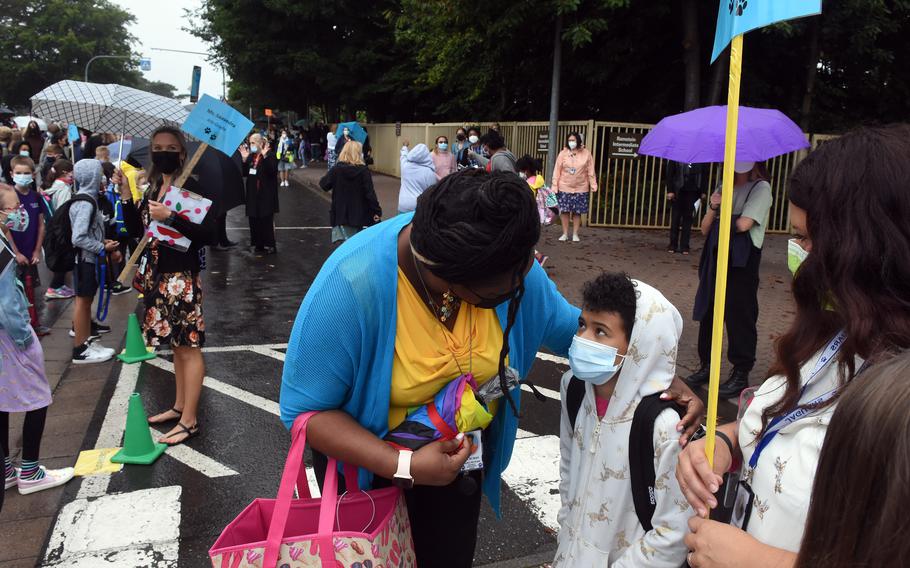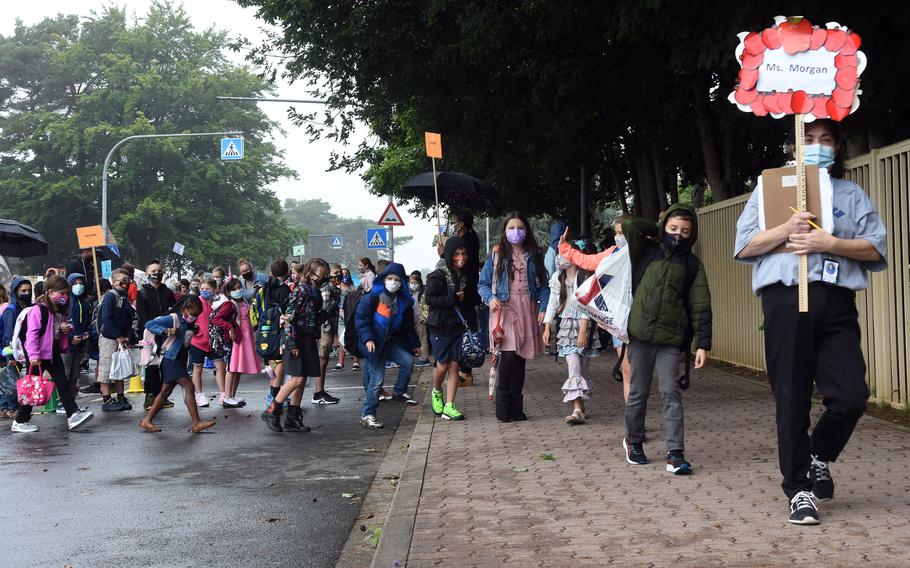 "I've spoken to many students and members of the base community, and they're just happy we're in person," said Rebecca Villagomez, principal of Yokota High School at Yokota Air Force Base in western New York. Tokyo, at Stars and Stripes on Monday. "They were just thrilled to be back in school, to see their friends, to see people face to face, and we're pretty lucky to have our school in person again this year."
Yokota High is still adhering to mask and social distancing mandates. It also has a COVID-19 mitigation team that meets frequently to discuss efforts to curb the spread of the disease.
"It's not just me watching and making decisions," Villagomez said. "For me, as a school leader, I really try to be a team player."
Any school activity that requires approval from base public health authorities is first reviewed by the COVID-19 team and then forwarded to the base for approval, she said.
Further west in Japan, at Marine Corps Air Station Iwakuni, the doors reopened at MC Perry High School with high expectations.
"Hopefully we can get a sense of normalcy back over the year," said English teacher Mark Lange.
Despite the uncertainty in 2020 and 2021, the school only missed one day of classes last year, said Lange, who is entering his 35th year as a teacher. He said when expectations are high, as they are now, students usually hit the mark.
MC Perry principal Latressa Renee Cobb said she was happy to see students back in the classrooms.
"We're so excited to have normalcy," she said. "And I know we're past the term 'the new normal,' but we're so excited to have a sense of normalcy back."
That sense of normalcy includes sports seasons and routine school activities, Cobb said.
MC Perry student Sera Shimakura, captain of the softball team, said her expectations include a return to routine school life.
"I'm looking forward to playing sports because we travel and have real games because we didn't have a fall season last year," she said. "So I'm looking forward to it, and I'm also looking forward to being home."
Department of Defense schools in South Korea echoed the enthusiasm of the first day.
At Humphreys Central Elementary School at Army Camp Humphreys, 8-year-old Marcum Savage said he was excited to start school and make friends.
His father, Army Warrant Officer Tony Savage of the 2nd Infantry Division, Sustainment Brigade, said he shared his son's outlook.
"I'm thrilled for him to meet new friends, see new people and get to know his teachers," Savage said. "We're actually new to Korea here, so it's exciting for him to go out and make friends."
Isiah Alter, 9, and his brother Mason, 7, were eager to start school at Humphreys Central. Their family recently arrived from Fort Riley, Kansas, said their mother, Joanna Alter. The Quirks toured South Korea several years ago.
"They're excited to start here in Korea to see what it's like in another country," Joanna Alter said. "It was about five years since we were last here, and they were too young to remember."
At Humphreys High School, Nichole Jones, a mother of three aged 7, 12 and 15, said her family was ready to return to school.
Last year, the Jones children attended an international school in South Korea.
"Their online school was really good," Jones said. "But kids do so much better in person."
She said she prefers the structured environment that a physical school provides over distance learning.
"And socialization, kids need to be around other kids," Jones said.